High quality factory direct supply Soybean lecithin Phosphatidylcholine
Product Description
#detail_decorate_root .magic-0{width:750px}#detail_decorate_root .magic-1{overflow:hidden;width:750px;height:318px;margin-top:0;margin-bottom:0;margin-left:0;margin-right:0}#detail_decorate_root .magic-2{margin-top:0;margin-left:0;width:750px;height:318px}#detail_decorate_root .magic-3{border-bottom-style:solid;border-bottom-color:#53647a;font-family:Roboto;font-size:24px;color:#53647a;font-style:normal;border-bottom-width:2px;padding-top:8px;padding-bottom:4px}#detail_decorate_root .magic-4{overflow:hidden;width:750px;height:61px;margin-top:0;margin-bottom:0;margin-left:0;margin-right:0}#detail_decorate_root .magic-5{margin-top:0;margin-left:0;width:750px;height:61px}#detail_decorate_root .magic-6{vertical-align:top}#detail_decorate_root .magic-7{padding:0;margin:0;color:#333;font-size:14px;padding-left:4px;font-weight:bold;white-space:pre-wrap}#detail_decorate_root .magic-8{vertical-align:top;display:block;padding-right:4px;box-sizing:border-box;padding-left:4px}#detail_decorate_root .magic-9{vertical-align:top;padding-bottom:4px;box-sizing:border-box;padding-top:4px}#detail_decorate_root .magic-10{padding:0;margin:0;white-space:pre-wrap;font-size:14px}#detail_decorate_root .magic-11{width:750px;border-collapse:collapse}#detail_decorate_root .magic-12{min-height:18px;padding:5px 10px;width:241px;min-height:18px;box-sizing:content-box}#detail_decorate_root .magic-13{min-height:18px;padding:5px 10px;width:460px;min-height:18px;box-sizing:content-box}#detail_decorate_root .magic-14{overflow:hidden;width:750px;height:750px;margin-top:0;margin-bottom:0;margin-left:0;margin-right:0}#detail_decorate_root .magic-15{margin-top:0;margin-left:0;width:750px;height:750px}#detail_decorate_root .magic-16{overflow:hidden;width:750px;height:1061.0294117647059px;margin-top:0;margin-bottom:0;margin-left:0;margin-right:0}#detail_decorate_root .magic-17{margin-top:0;margin-left:0;width:750px;height:1061.0294117647059px}#detail_decorate_root .magic-18{overflow:hidden;width:750px;height:568px;margin-top:0;margin-bottom:0;margin-left:0;margin-right:0}#detail_decorate_root .magic-19{margin-top:0;margin-left:0;width:750px;height:568px}#detail_decorate_root .magic-20{margin-bottom:10px;overflow:hidden}#detail_decorate_root .magic-21{overflow:hidden;width:750px;height:747px;margin-top:0;margin-bottom:0;margin-left:0;margin-right:0}#detail_decorate_root .magic-22{margin-top:0;margin-left:0;width:750px;height:747px}#detail_decorate_root .magic-23{overflow:hidden;width:750px;height:1307px;margin-top:0;margin-bottom:0;margin-left:0;margin-right:0}#detail_decorate_root .magic-24{margin-top:0;margin-left:0;width:750px;height:1307px}#detail_decorate_root .magic-25{overflow:hidden;width:750px;height:578px;margin-top:0;margin-bottom:0;margin-left:0;margin-right:0}#detail_decorate_root .magic-26{margin-top:0;margin-left:0;width:750px;height:578px}#detail_decorate_root .magic-27{overflow:hidden;width:750px;height:1059px;margin-top:0;margin-bottom:0;margin-left:0;margin-right:0}#detail_decorate_root .magic-28{margin-top:0;margin-left:0;width:750px;height:1059px}#detail_decorate_root .magic-29{overflow:hidden;width:750px;height:590px;margin-top:0;margin-bottom:0;margin-left:0;margin-right:0}#detail_decorate_root .magic-30{margin-top:0;margin-left:0;width:750px;height:590px}#detail_decorate_root .magic-31{overflow:hidden;width:750px;height:798px;margin-top:0;margin-bottom:0;margin-left:0;margin-right:0}#detail_decorate_root .magic-32{margin-top:0;margin-left:0;width:750px;height:798px}#detail_decorate_root .magic-33{overflow:hidden;width:750px;height:573px;margin-top:0;margin-bottom:0;margin-left:0;margin-right:0}#detail_decorate_root .magic-34{margin-top:0;margin-left:0;width:750px;height:573px}#detail_decorate_root .magic-35{overflow:hidden;width:750px;height:769px;margin-top:0;margin-bottom:0;margin-left:0;margin-right:0}#detail_decorate_root .magic-36{margin-top:0;margin-left:0;width:750px;height:769px}#detail_decorate_root .magic-37{overflow:hidden;width:750px;height:606px;margin-top:0;margin-bottom:0;margin-left:0;margin-right:0}#detail_decorate_root .magic-38{margin-top:0;margin-left:0;width:750px;height:606px}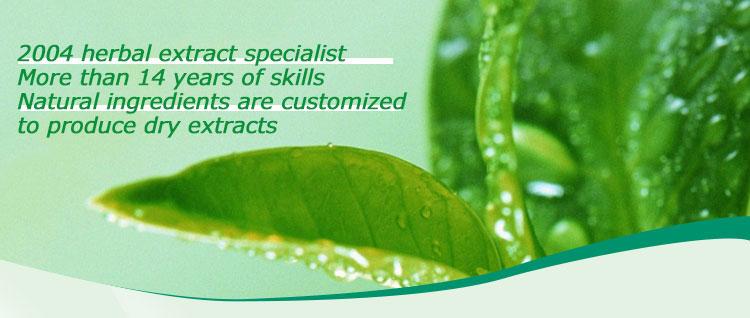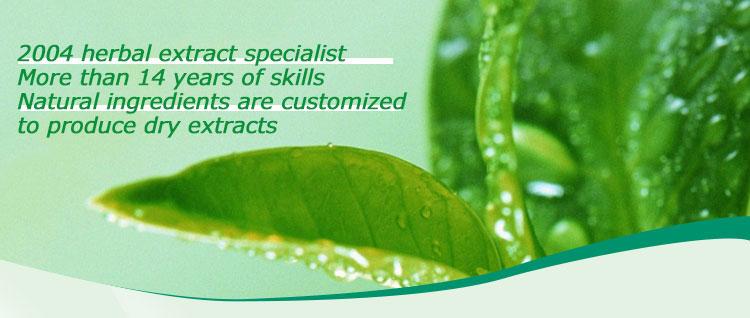 Products Description


Lecithin contains choline is an essential component nutrients, at the same time is a good natural emulsifier and fat metabolism in the body to purify the blood and body care has a unique effect. Lecithin is a generic term to designate any group of yellow-brownish fatty substances occurring in animal and plant tissues, which are amphiphilic - they attract both water and fatty substances (and so are both hydrophilic and lipophilic), and are used for smoothing food textures, dissolving powders (emulsifiers), homogenizing liquid mixtures, and repelling sticking materials. Soy Lecithin is a wonderful ingredient to add to your culinary and body care recipes.  It contains many beneficial properties, and is used as an emulsifier, thickener, stabilizer, mild preservative, moisturizer, and emollient.  Lecithin can be utilized in almost any recipe, and is commonly found in both food and cosmetic products Lecithin has emulsification and lubricant properties, and is a surfactant. It can be totally metabolized (see Inositol) by humans, so is well tolerated by humans and nontoxic when ingested; some other emulsifiers can only be excreted via the kidneys.
| | |
| --- | --- |
| Product Name | Soy lecithin |
| Shelf life | 2 Years |
| Application | Health care |
| Color | Yellow to brown yellow powder |
| Test methold | HPLC |
| Specification | 20% 25% 26% |
| MOQ | 1KG |
| Storage conditions | Store in cool & dry place, Keep away from strong light and heat. |
| Customized | Available |
| Sample | Available |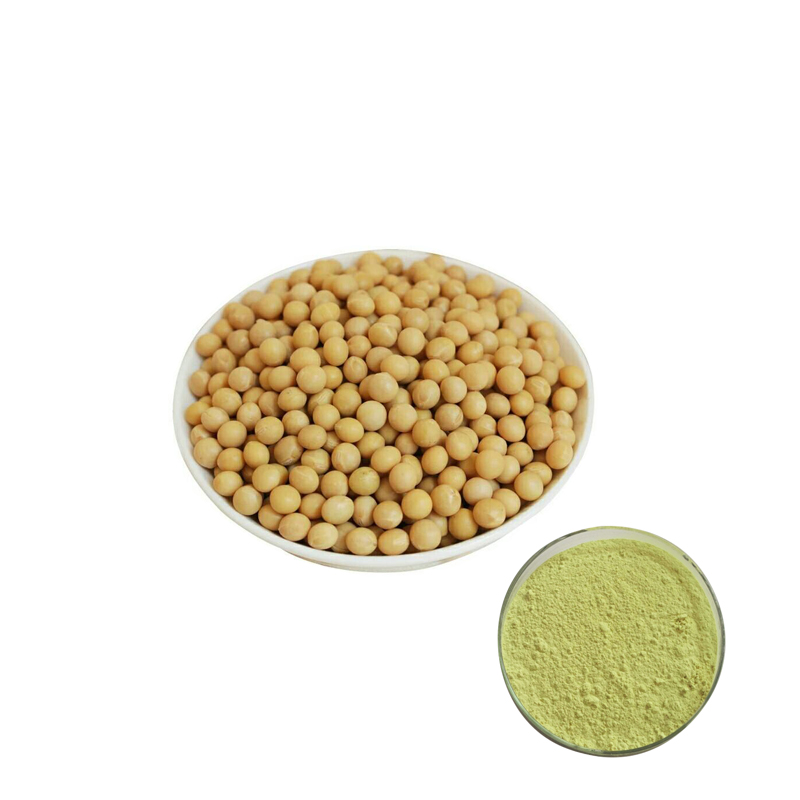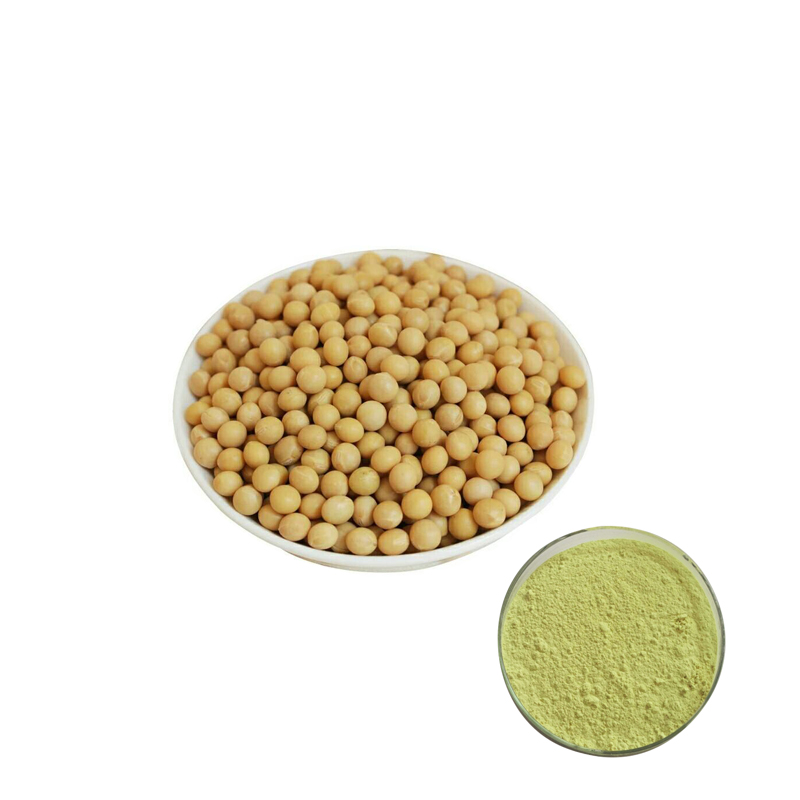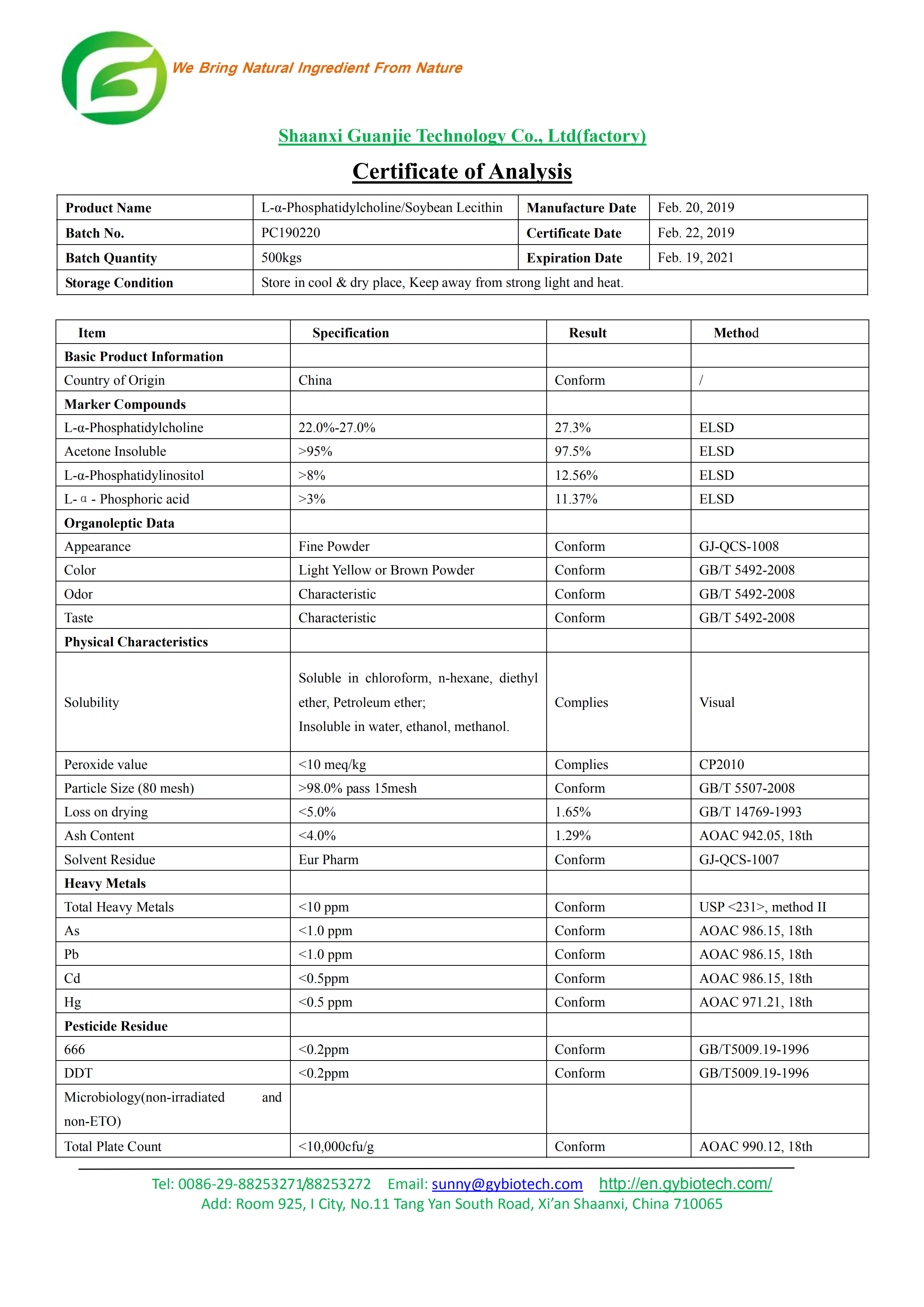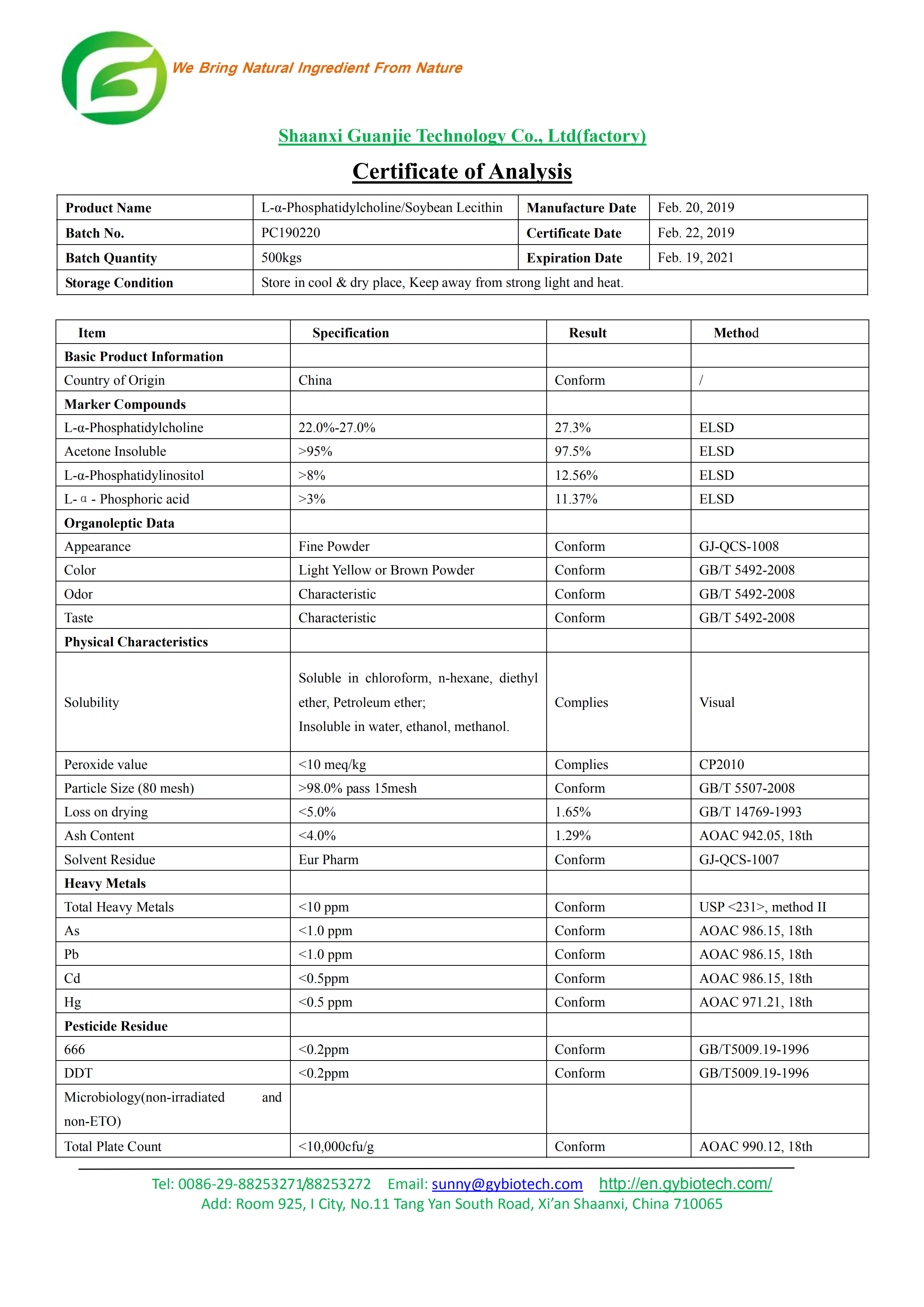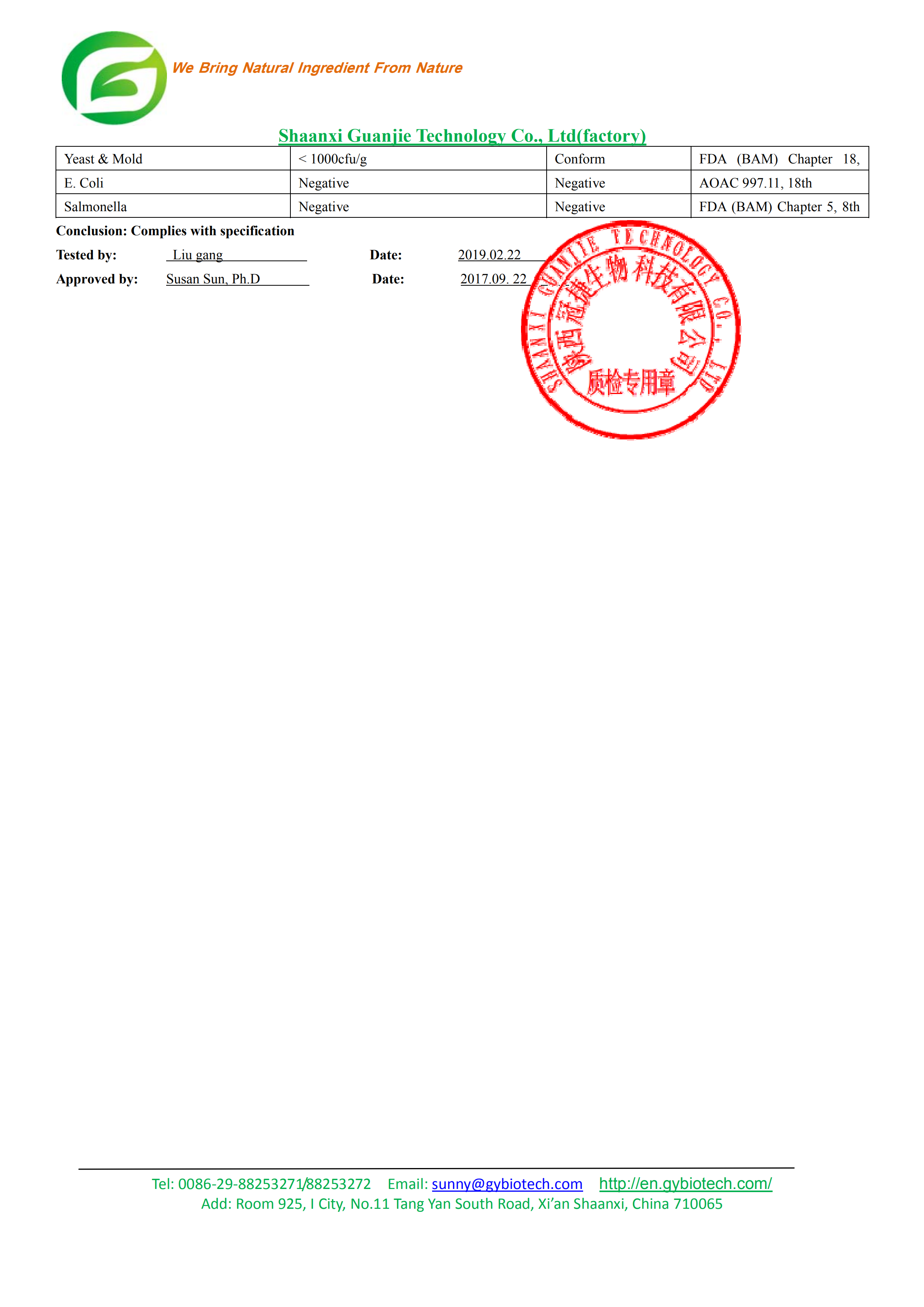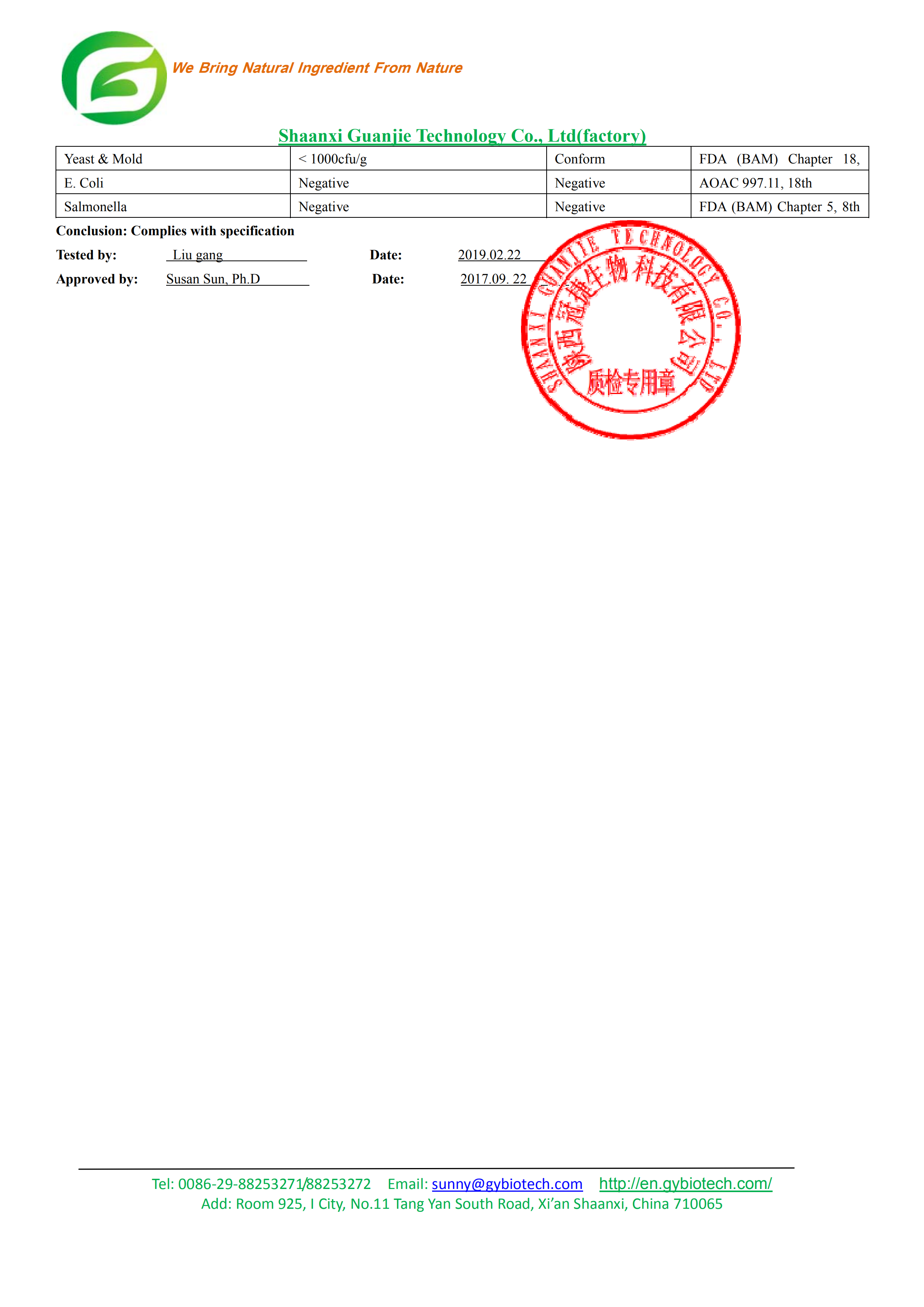 Application area


Lecithin is used for applications in human food, animal feed, pharmaceuticals, paints, and other industrial applications. Applications include: 1.In the pharmaceutical industry, it acts as a wetting, stabilizing agent and a choline enrichment carrier, helps in emulsifications and encapsulation, and is a good dispersing agent.  2.In animal feed, it enriches fat and protein and improves pelletization. 3.In the paint industry, it forms protective coatings for surfaces with painting and printing ink, has antioxidantproperties, helps as arust inhibitor, is a colour-intensifying agent, catalyst, conditioning aid modifier, and dispersing aid; it is a good stabilizing and suspending agent, emulsifier, and wetting agent, helps in maintaining uniform mixture of several pigments, helps in grinding of metal oxidepigments, is a spreading and mixing aid, prevents hard settling of pigments, eliminates foam in water-based paints, and helps in fast dispersion of latex-based paints. 4.Lecithin also may be used as a release agent for plastics, an antisludge additive in motor lubricants, an antigumming agent in gasoline, and an emulsifier, spreading agent, and antioxidant in textile, rubber, and other industries.Advantage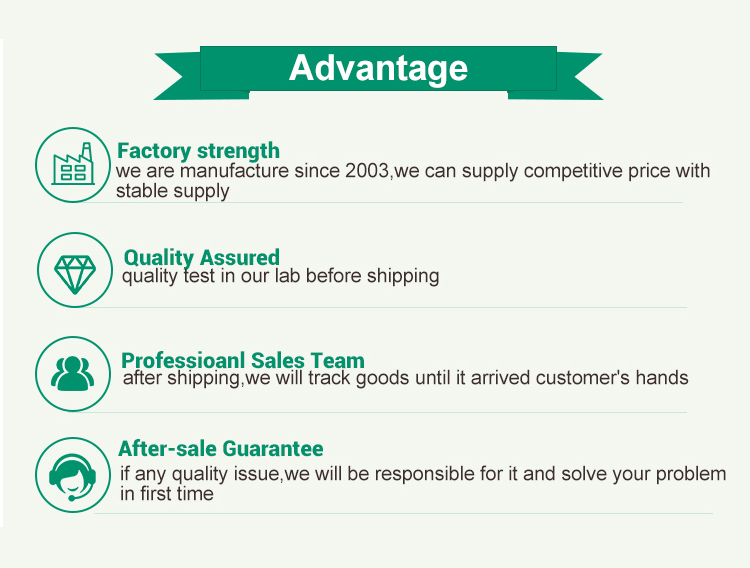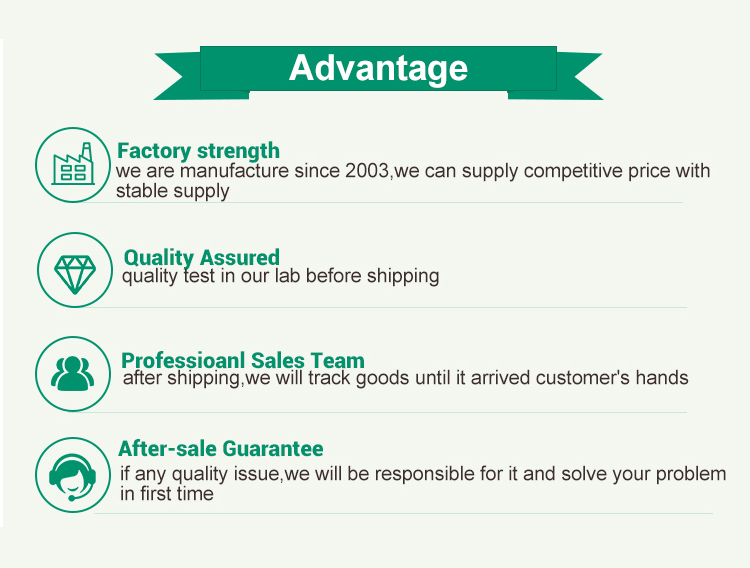 Recommended by sellermanufactory supply american ginseng extract$17.00 - $150.00 / Kilogram1 Kilogramfactory supply health care product cordyceps sinensis extract$13.00 - $20.00 / Kilogram1.0 Kilogramsorganic 100% top quality boswellia serrata extract$13.00 - $18.00 / Kilogram1 KilogramAbout us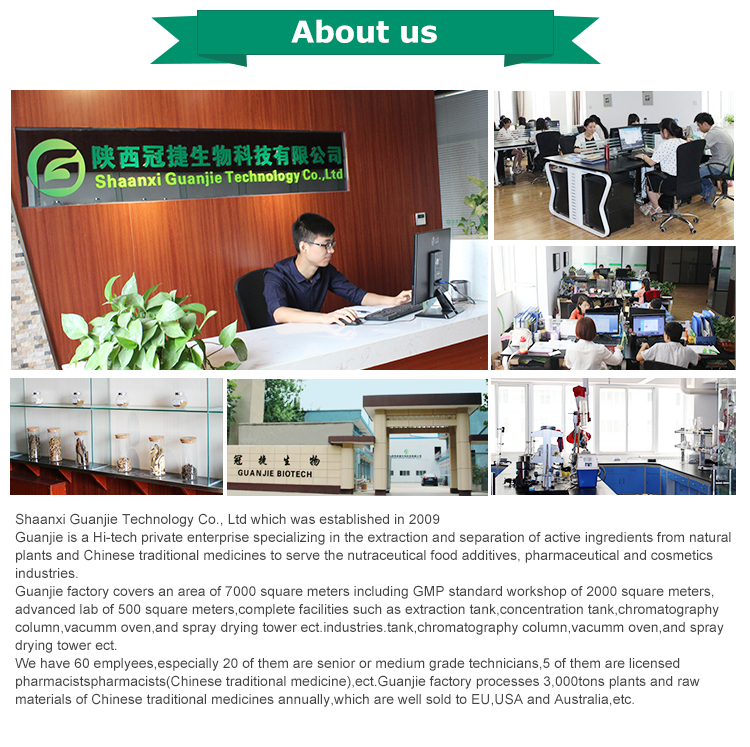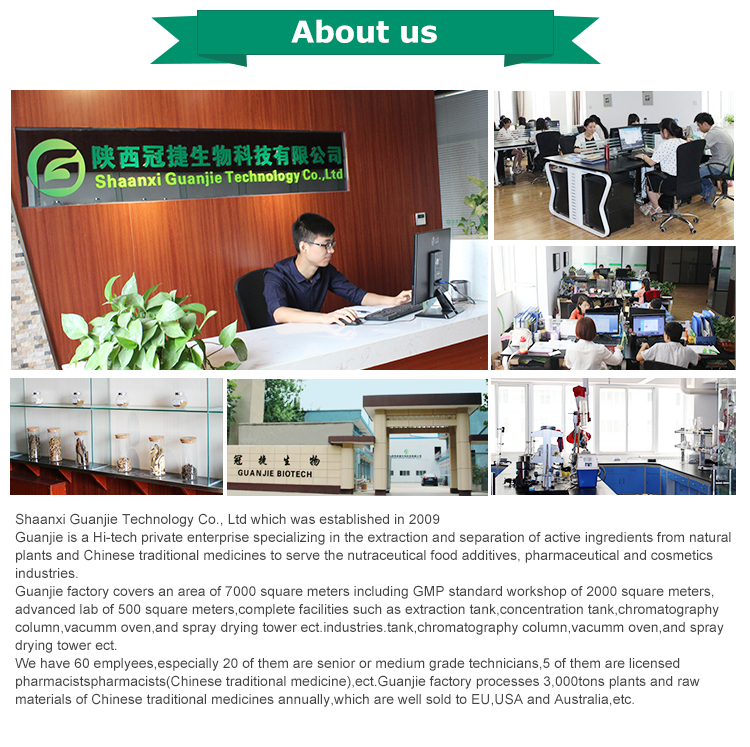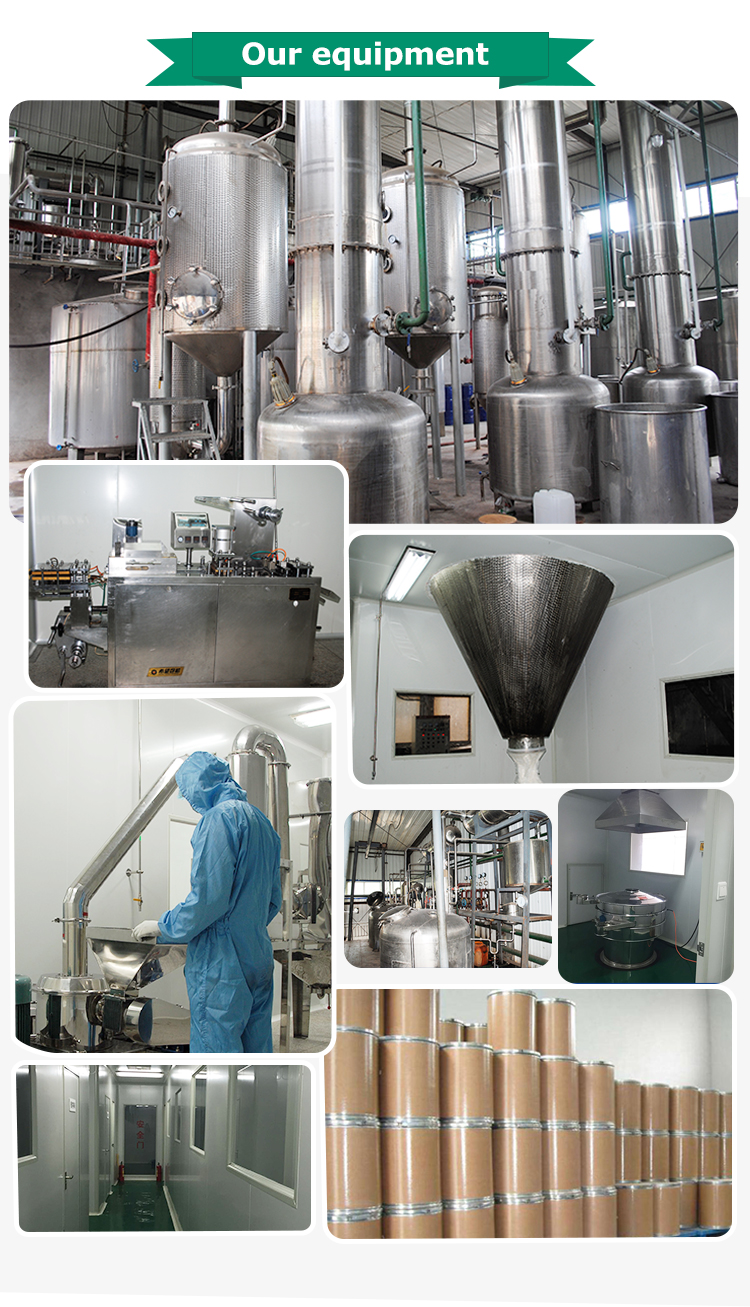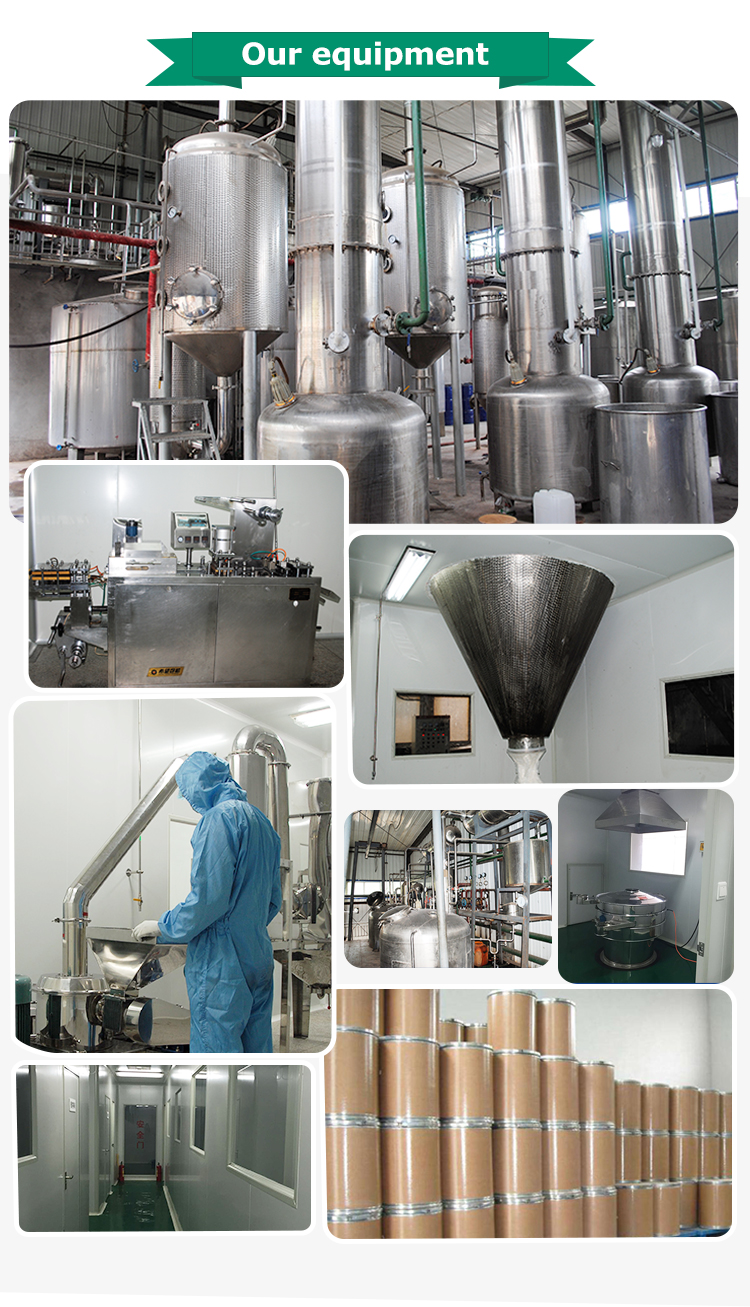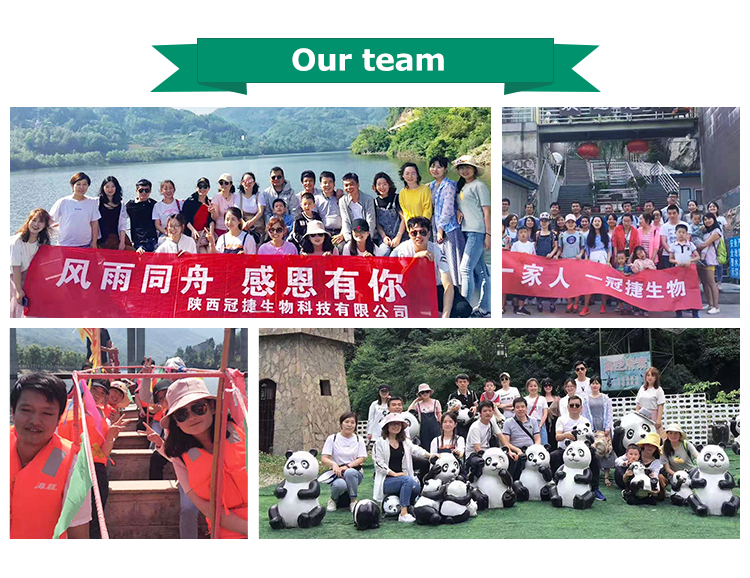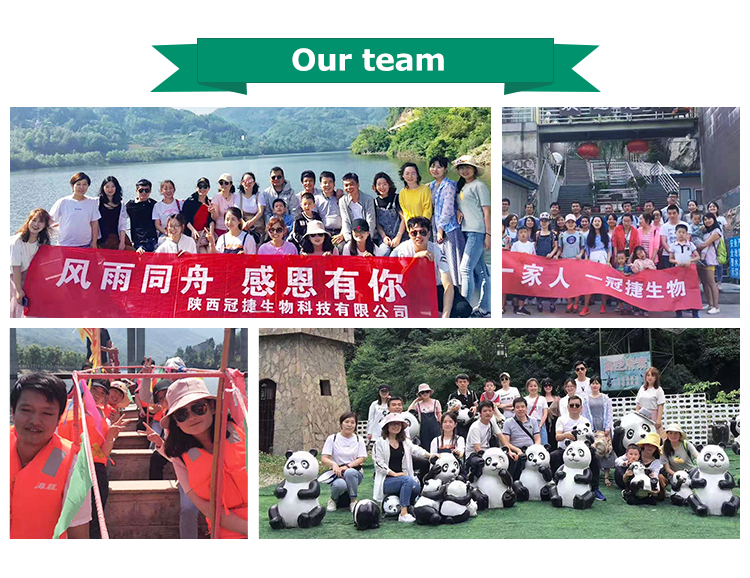 Our certificate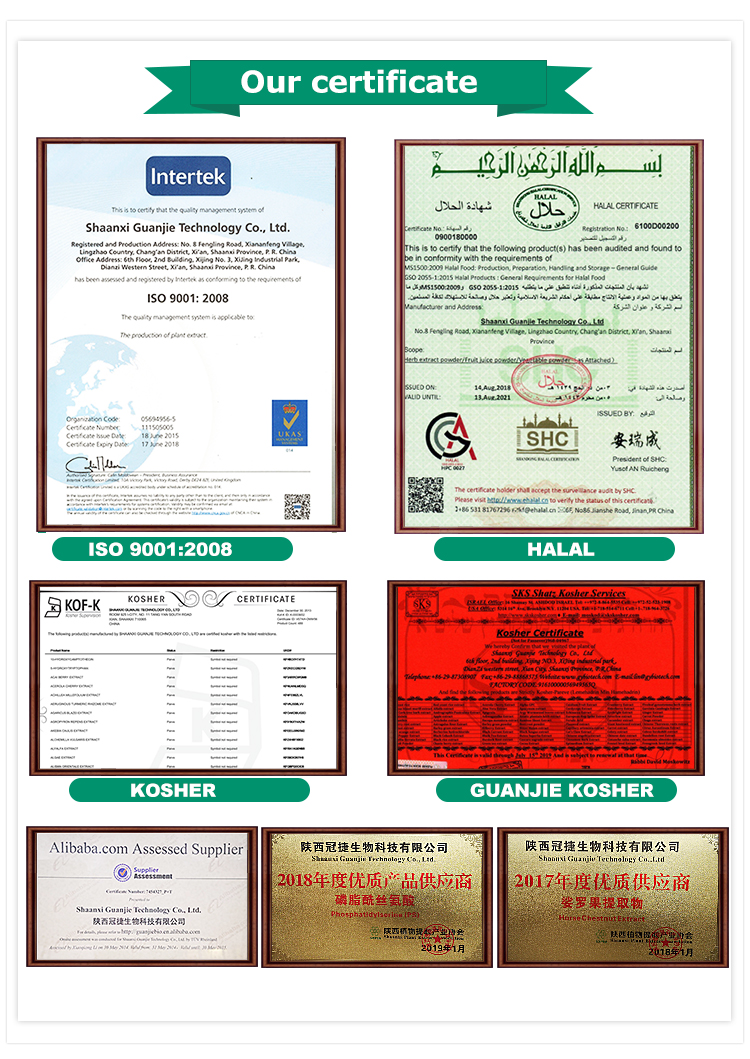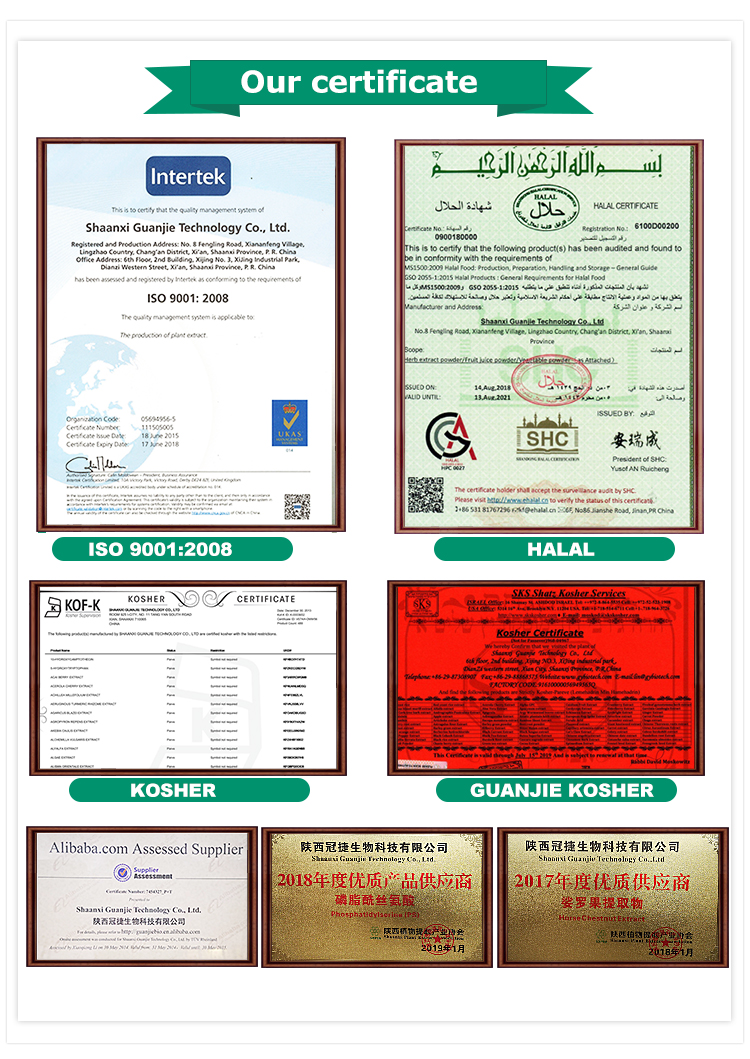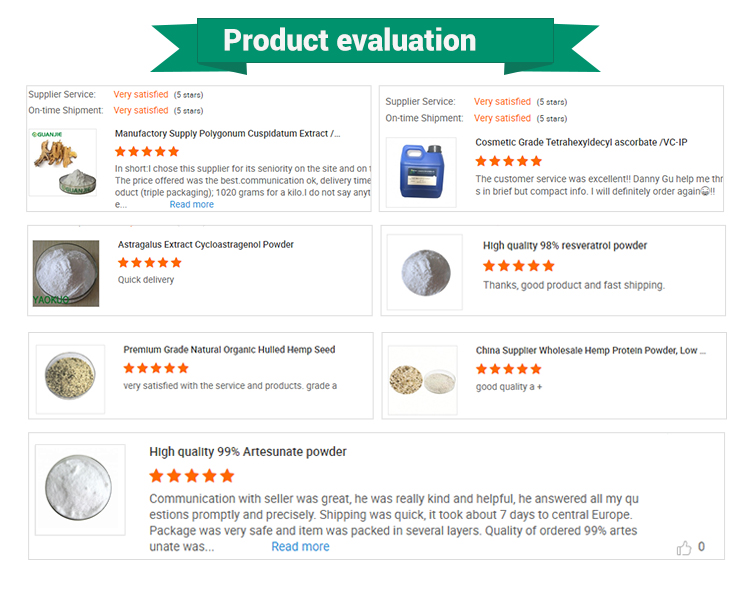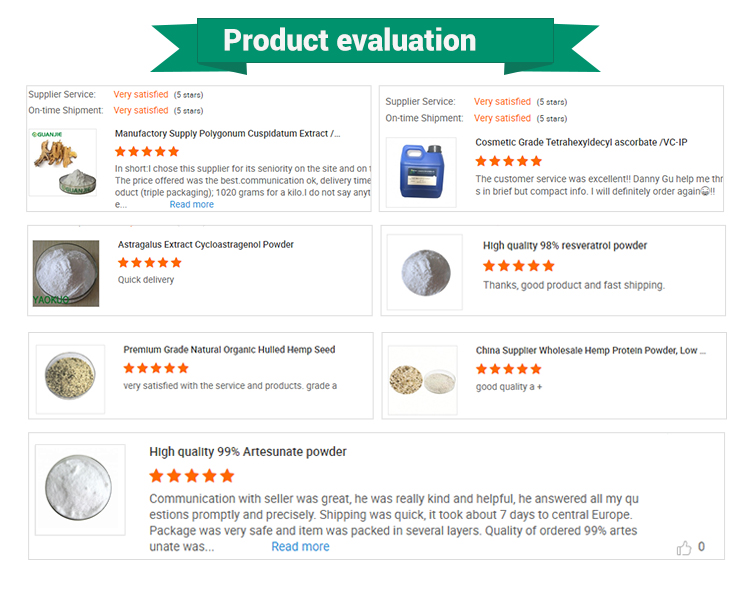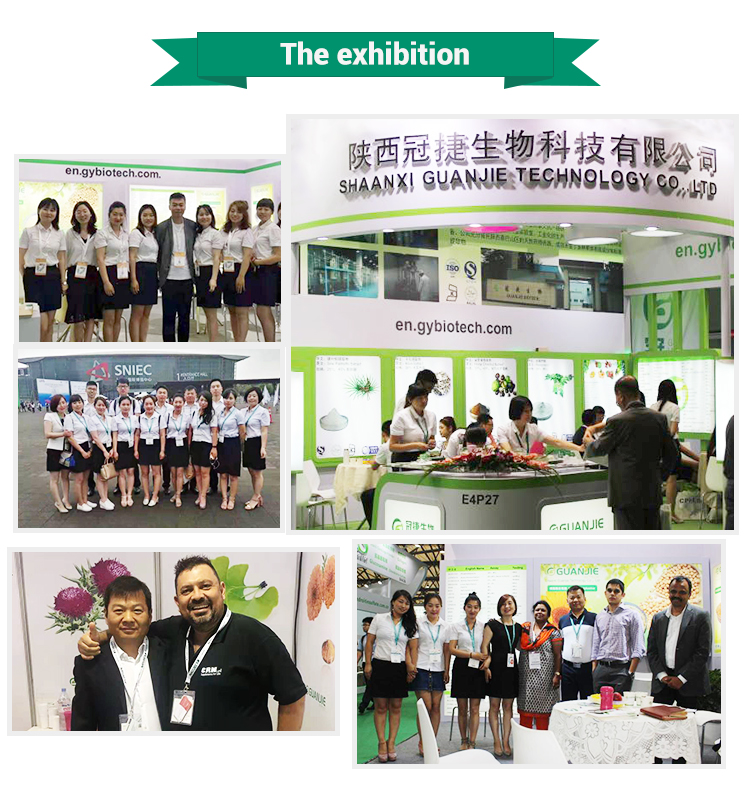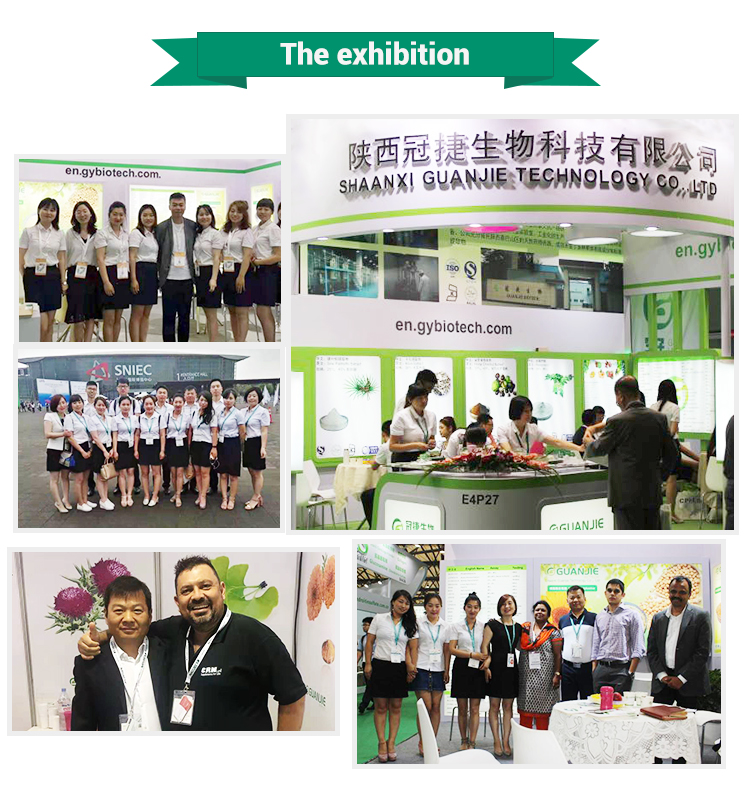 Packaging and shipping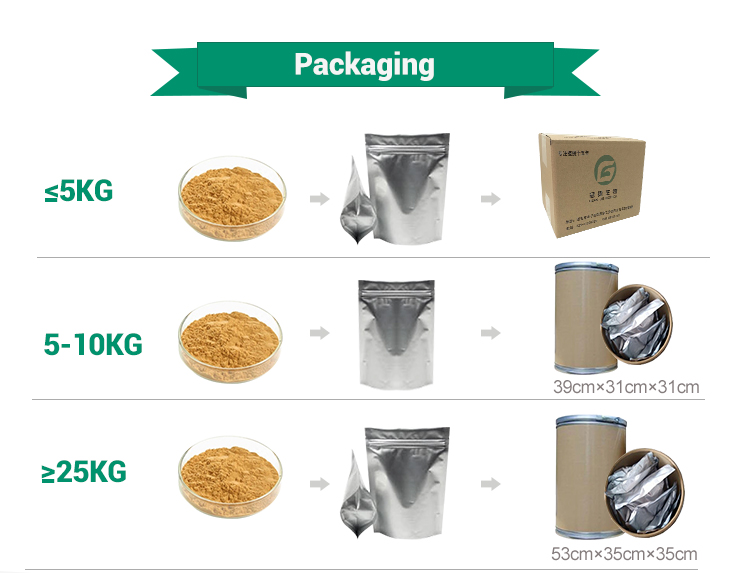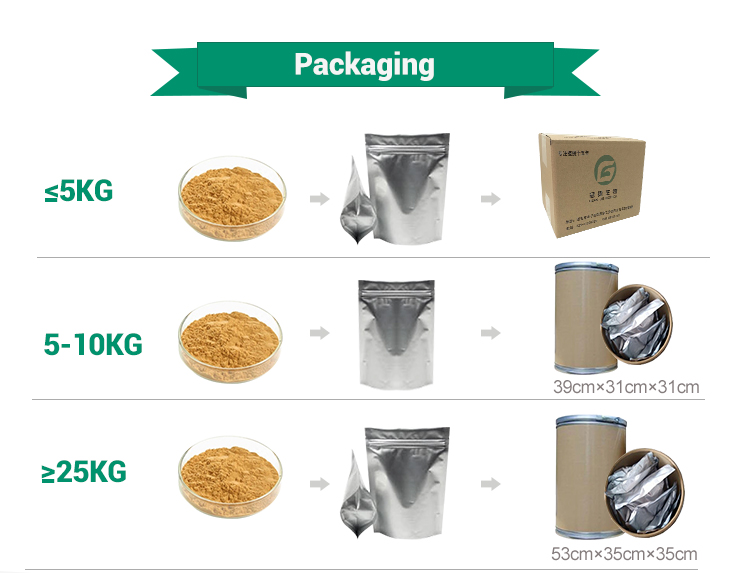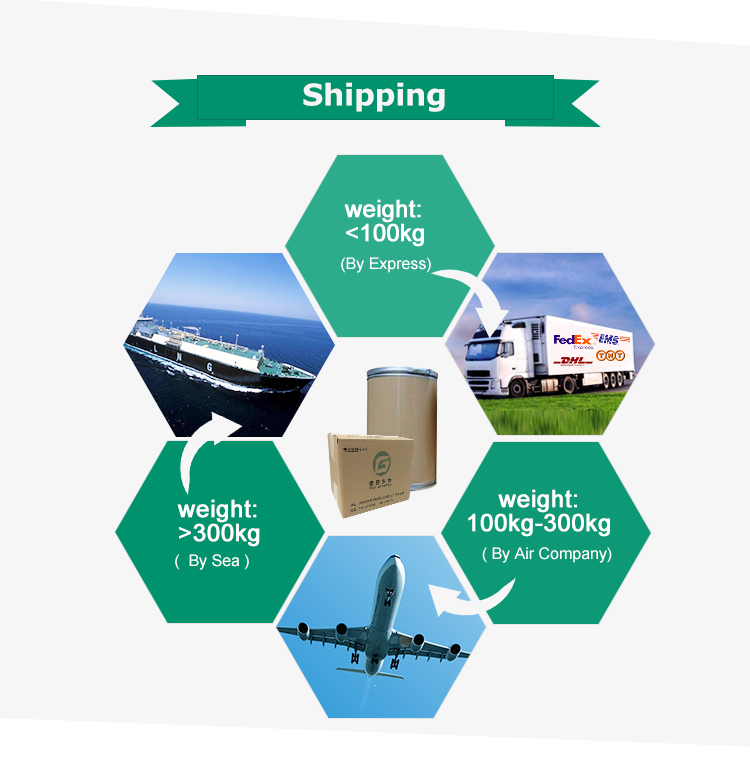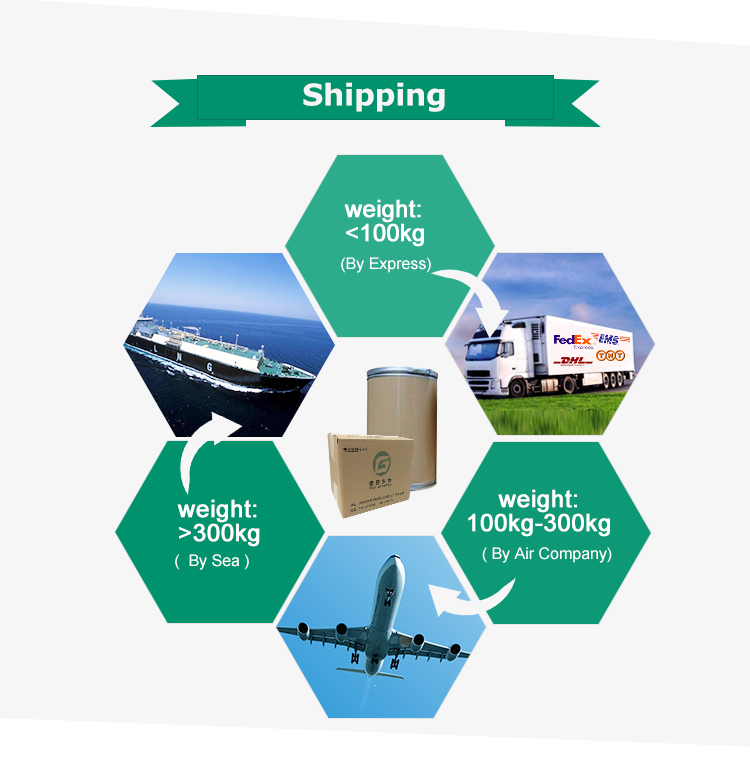 FAQ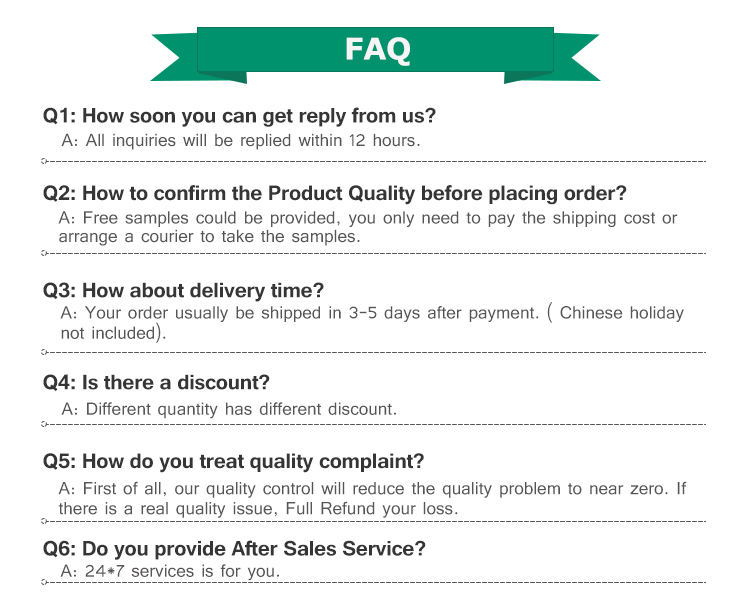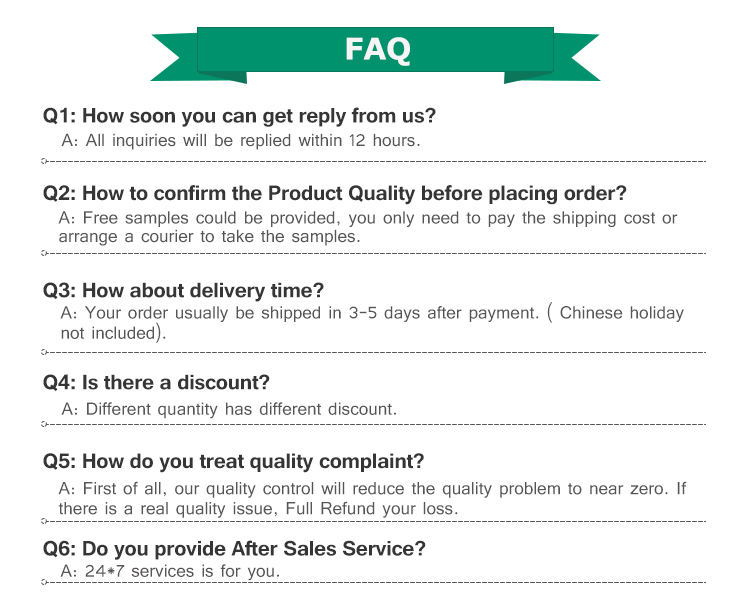 Contact us if you need more details on Pure Soybean Extract Phosphatidylcholine. We are ready to answer your questions on packaging, logistics, certification or any other aspects about Health、Pure Soybean Extract Phosphatidylcholine. If these products fail to match your need, please contact us and we would like to provide relevant information.
Product Categories : Promotion Product